New data on Idaho's unmet housing needs show Idaho's lowest income households face barriers to obtaining assistance
Idaho families, workers, and businesses need affordable housing to thrive. When families spend more than 30 percent of their incomes on housing, they are often left unable to afford other necessities, such as food, medicine, or school supplies. In Idaho, 46 percent of renters spent at least 30 percent of their incomes on housing in 2019, the most recent year for which data was available. The coronavirus pandemic of the last two years has created new housing-related challenges and barriers for Idaho households.
To meet this critical community need, over the last two years state and federal lawmakers approved investments that promote housing stability throughout the coronavirus pandemic. One of the furthest reaching programs is federal Emergency Rental Assistance (ERA). ERA provides rent and utility assistance to renters with modest incomes, who have faced serious barriers to stable housing due to the pandemic's economic effects. While this program has already prevented thousands of evictions in Idaho, data released by the U.S. Department of Treasury earlier this year suggests that many Idaho renters with the lowest incomes were not able to access rental assistance in 2021. This limited program access points to a need for improved outreach by the state's program administrators.
ERA Distribution in Idaho Disproportionately Benefited Eligible Families with Higher Incomes Compared to National Distribution Trends in 2021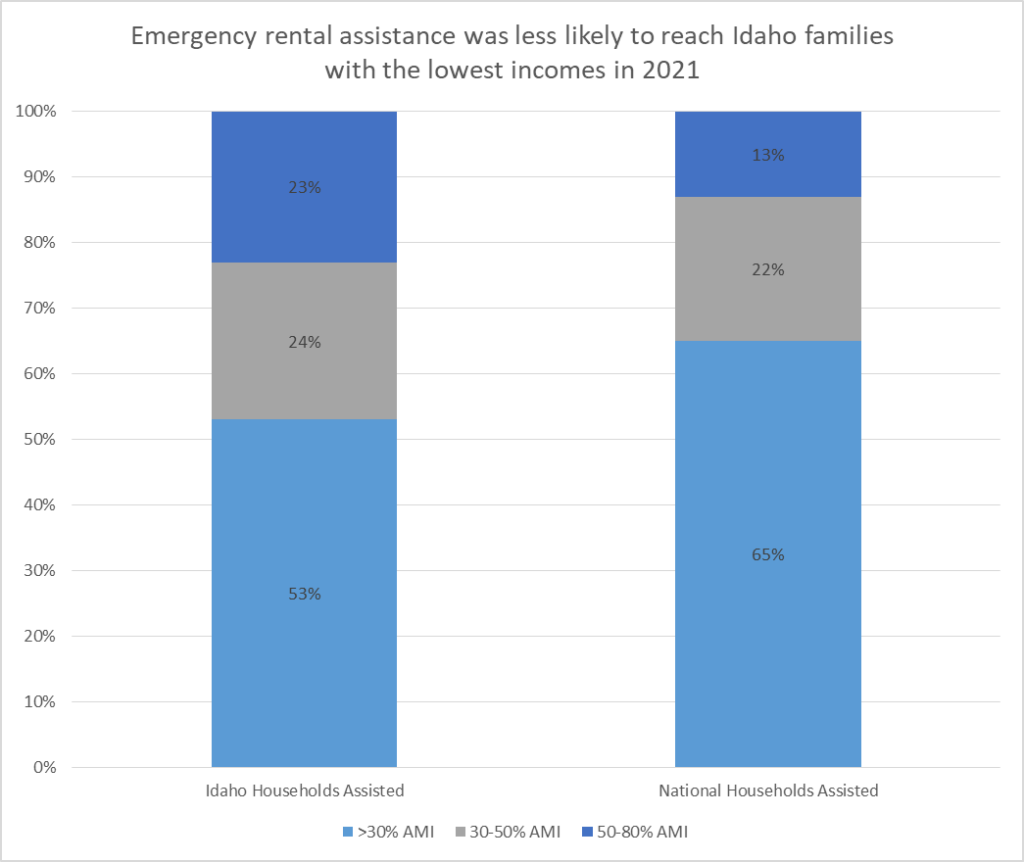 Federal guidance for ERA funds requires state and local programs to make assistance available to renters earning 80 percent or less of the Area Median Income (AMI).1 This income threshold ensures rental relief is targeted to residents who need it the most. However, compared to other states, the assistance distributed by Idaho's ERA programs was more likely to reach eligible families earning higher incomes and fewer families earning the lowest incomes, according to data from the U.S. Department of Treasury. In fact, Idaho was among the top three states for distributing assistance to renters earning 50 to 80 percent of the median income but was among the bottom five states for distributing assistance to renters earning less than 30 percent of the median. This suggests many renters with the greatest need in Idaho may not have been able to access assistance in 2021. 
Getting rental assistance to the Idaho residents who need it most
These disparities could be associated with several factors that may have made it more difficult for renters to know about or access this assistance, such as program outreach efforts and program accessibility. In order to enhance visibility and accessibility of Idaho's programs, the Idaho Housing and Finance Association began subgranting with community organizations earlier this year.
Program administrators must continue to address and also monitor Idaho residents' rental assistance access. Program policies that could enhance these efforts include:
Ensuring the application process is accessible to all renters regardless of disability, geographic location, or technical knowledge.
Analyzing program data and current outreach efforts to determine how to best reach renters with the lowest incomes.
These program improvements will ensure that many more Idaho residents have access to affordable housing – strengthening families, businesses, and their broader communities. The ERA program has already helped more than 17,500 Idaho households avoid eviction or homelessness throughout the coronavirus pandemic. As a result, many families have avoided the high financial and emotional costs of eviction. And communities throughout the state avoided the other costs of eviction, including emergency and homelessness services as well as court-related expenses.
| | IHFA | BCACHA | Idaho Total |
| --- | --- | --- | --- |
| ERA1 Allocation | $176 million | $24 million | $200 million |
| Total Disbursed | $41.8 million | $27.4 million | $69.2 million |
| Total Households Assisted | 10,525 | 5,719 | 16,244 |
| ERA2 Allocation | $134 million | $18 million | $152 million |
| ERA2 Available | $38 million | $18 million | $56 million |
| Total Disbursed | N/A | $6.8 million | $6.8 million |
| Total Households Assisted | N/A | 1,322 | 1,322 |
Sources: Boise City/Ada County Housing Authorities, Idaho Housing and Finance Association, and U.S. Treasury
Data current through June 30, 2022
---
[1] U.S. Department of Treasury. ERA1 and ERA2 Federal Guidance. Accessed at: https://home.treasury.gov/policy-issues/coronavirus/assistance-for-state-local-and-tribal-governments/emergency-rental-assistance-program/guidance