Six months ago, the Center published a look at Idaho's rising cost of living and what it means for families of modest incomes. In that piece – which is available here – we examined the cost of basic necessities, such as gas and housing. The six months since that piece's publication were eventful and complex. In this piece, we again take a look at what it costs Idaho families to meet some of their most basic needs and how those costs recently changed.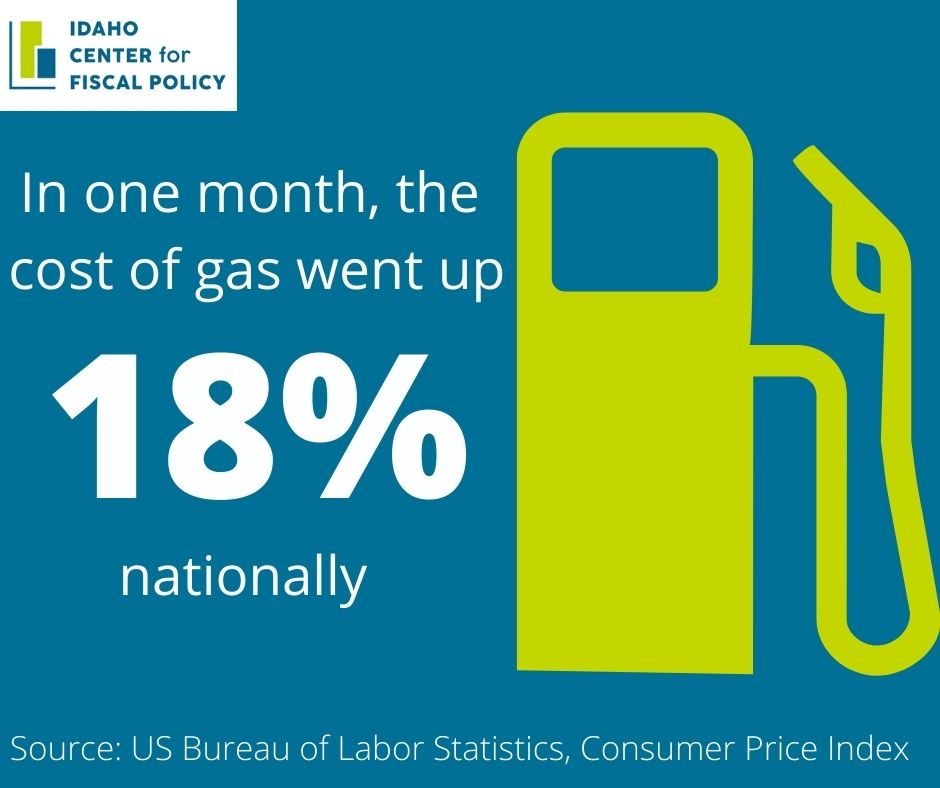 Even in the midst of record-low unemployment and a strong economy, Idahoans are increasingly concerned about making ends meet. Pandemic-related inflation and war in Ukraine coupled with rising costs caused by Idaho's rapidly growing population has impacted everyone. Daily household budgets are feeling the pinch from the grocery aisles to the gas pump to the cost of renting and owning a home. Basic living expenses are becoming increasingly unaffordable, particularly for low and moderate income Idahoans. From the national perspective, Idahoans' experiences are similar to what other states have seen. In March 2022, Americans on average made almost 1 percent less in real average hourly earnings than they did a month earlier in February according to the latest analysis from the Bureau of Labor Statistics. This is true despite recent wage increases. When looking at the data from a year prior in 2021, Americans who hold nonsupervisory jobs saw their real wages decrease by an enormous 3.3 percent.1
Idaho policy makers can help address rising costs by enacting a Working Families Tax Credit. This credit would put money in the hands of working Idahoans who need it the most and it would support our economy as recipients spend the credit at local businesses.
Getting to work is becoming more expensive
The average cost of gas in Idaho is currently $4.40 per gallon, one of the highest rates in the nation.2 Nationally, the price of gasoline has gone up 48 percent since last year.3 In one month alone, the cost of gasoline went up 18 percent.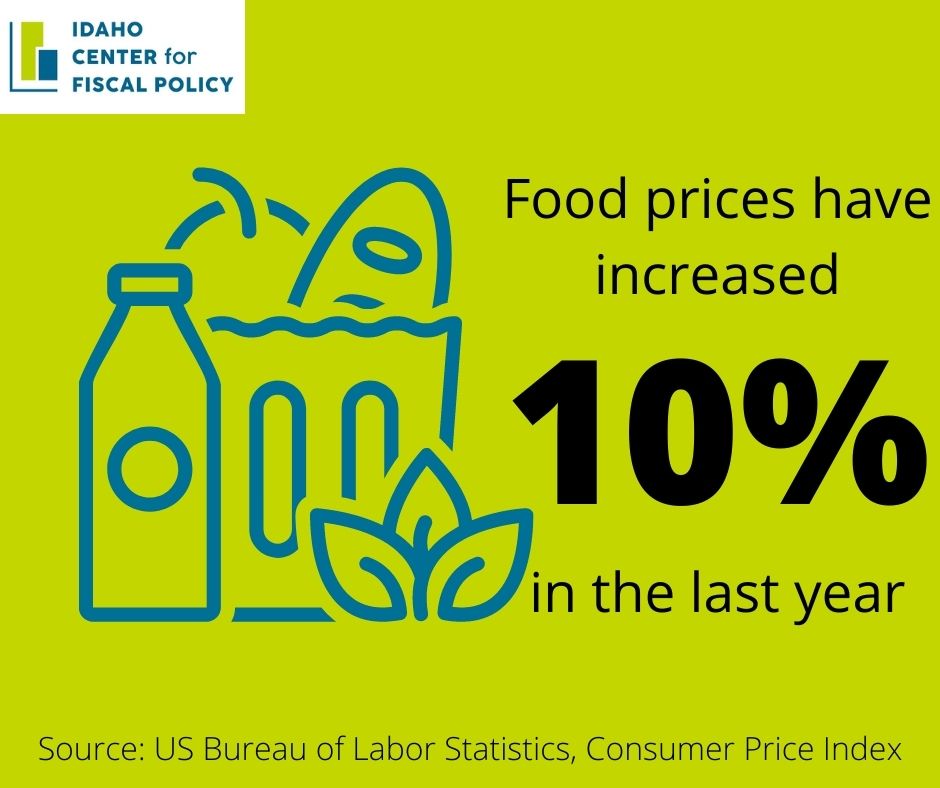 Cost of food has gone up
Cost of food purchased in stores and prepared at home has gone up 10 percent in the last 12 months.4 This is especially troubling for families who need to stretch funds to put food on the table to ensure that their children can thrive. Coupled with reduced federal supports for school and summer nutrition benefits, Idaho could see a significant rise in childhood hunger this summer.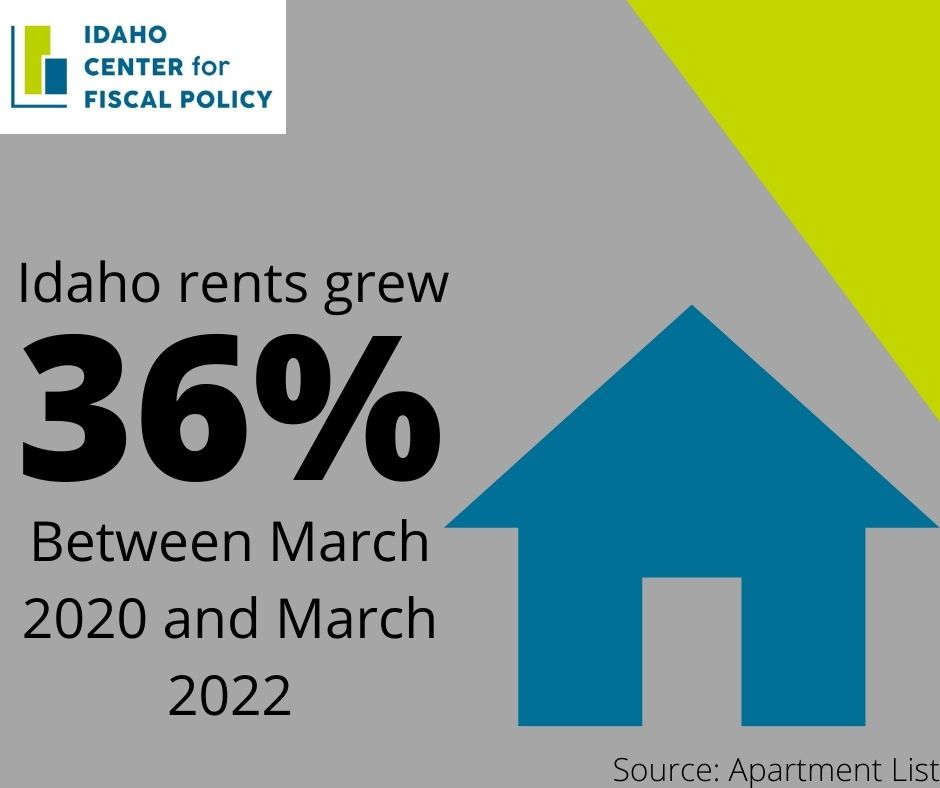 Housing costs continue to grow
Idaho is third in the nation for housing price increases over the past year and first over the prior five years, making purchasing a home increasingly unaffordable for middle-income families. Idaho home prices have increased 27 percent in the past year and 118 percent over the past five years.5 Renters are also feeling the squeeze, with average rents growing 36 percent from March 2020, when the pandemic began, to March 2022.6
To help Idahoans get back to work and to cover rising costs, Idaho policy makers need to make sure that work pays. A Working Families Tax Credit would encourage work and help lower and middle income families make ends meet.
---
1Bureau of Labor Statistics, News Release: Real Earnings – March 22, Accessed on April 19, 2022, at https://www.bls.gov/news.release/pdf/realer.pdf
2American Automobile Association, Idaho Average Gas Prices, Accessed on April 14, 2022, at: https://gasprices.aaa.com/?state=ID
3U.S. Bureau of Labor Statistics, Consumer Price Index Summary, April 14, 2022, Accessed at: https://www.bls.gov/news.release/cpi.nr0.htm.
4U.S. Bureau of Labor Statistics, Consumer Price Index Summary, April 14, 2022, Accessed at: https://www.bls.gov/news.release/cpi.nr0.htm.
5Federal Housing Finance Agency, Change in FHFA State House Price Indexes. Accessed on April 19, 2022, at: https://www.fhfa.gov/DataTools/Tools/Pages/House-Price-Index-(HPI).aspx Analysis includes home sales data from Q4 2020 to Q4 2021 & Q4 2016 to Q4 2021.
6Apartment List, accessed on April 14 at: https://www.apartmentlist.com/research/category/data-rent-estimates